Trig Avionics Limited was founded in January 2004. Our ambition is to provide the most innovative certified avionics products for aircraft owners and operators.
Trig has a 'Better by Design' philosophy ensuring products are simple to use, truly innovative and provide pilots with features that really matter. We have a strong commitment to helping our customers meet regulatory changes. Our free ADS-B STC program and free European Minor Change Approvals are used every day by our customers to get airborne, reducing the cost of compliance.
TY96A VHF Radio

Trig Avionics is delighted to announce the latest addition to their radio range – the TY96A
The TY96A radio is a superb slimline 760 channel VHF radios with 25kHz spacing.It is packed with the same pilot friendly features as the TY96 and is ideal for pilots flying outside 8.33kHz mandated airspace.
Trig is becoming the standard by which modern aviation radios are judged. Jon Roper, Marketing Manager at Trig said, "We are pleased to announce the launch of our 760 channel VHF 25kHz spacing radios. These are perfect feature rich, pilot friendly radios for GA pilots not requiring 8.33kHz spacing."
The TY96A is the same slimline design as the TY96 at only 33mm (1.3") high. These radios have no cooling fans which means they can be easier and cheaper to accommodate in an old stack. With a clear bright display and a superior user interface, Trig's 'Better by Design' ethos is evident within the practical and high-quality design.
The TY96A has all the same pilot friendly features as the TY96 such as the unique 'Push Step' button. This feature ensures the fastest tuning and transition between, 25kHz and 50kHz. Pilots can course tune in 50kHz and then fine tune in 25kHz.
On the TY96A frequencies and identifiers are shown, with a flip flop button to make a standby frequency active. The dual watch feature allows the overseeing of two frequencies and an Emergency button makes selection of 121.5 instantaneous. Pilots also have access to the extremely popular, 'Say Again' feature. This replays up to 30 seconds of the previously received transmission, meaning the pilot can avoid requesting, "Say Again."
The TY96A radio gives you flexibility to load over 200 frequencies and identifiers in the radios memory using a USB stick. You can create a database on a PC and load using a CSV file. Each pilot can customise their own frequency list and load it from the USB prior to flight. Of course, there is no database subscription fees – Trig gives the pilot complete control. Finally, a built in two place stereo intercom with support for stereo music ensures quality entertainment options are available.
TY92 VHF Radio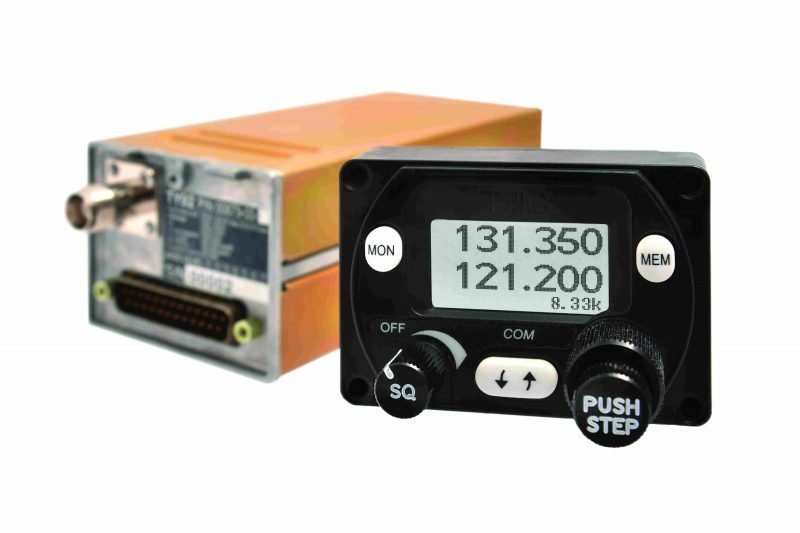 Trig's compact radio is the ideal retro-fit that can be installed in the smallest panel. The TY91 is certified and highly capable. Easy to use and faster to tune, it takes up minimal space and weight. The unique 'Push Step' feature provides the fastest in class frequency selection. Dual Watch allows you to monitor two channels at the same time – it's like having two radios in one. Compatibility with various EFIS systems enables remote control of the TY91 radio – it can even populate the on-route frequency from a connected GPS. A memory function provides fast frequency selection for your most used frequencies. A built-in intercom with mic gain adjustment on each headset ensures great performance, even when headsets brands don't match.
TRIG TT31 Panel Mount Class 1 Mode S Transponder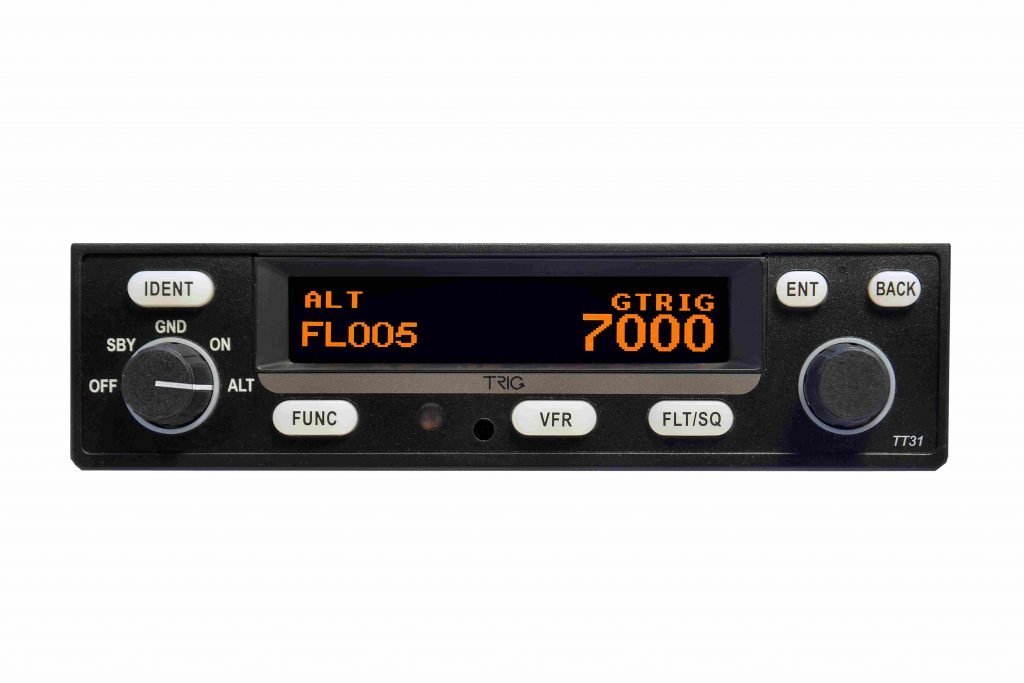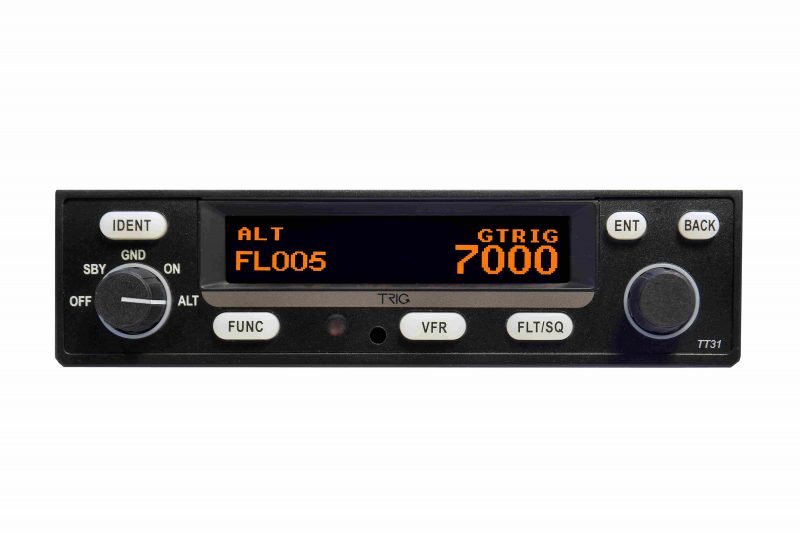 The TT31 class leading, Mode S transponder is a popular retrofit transponder for legacy transponders. With plug and play compatibility, the TT31 to installs directly into an existing KT76A, KT76C, and KT78A mounting trays from Bendix King significantly reduceing installation time and cost — to provide pilots with 1090ES ADB-S capable Class 1, Mode S technology.
Improved retrofit performance – 'plug and play' Mode S installation for KT76A, KT76C and KT78A
Certified for IFR / VFR flight
Amongst the lowest power consumption in class
TIS traffic capabilities – portable and/or panel mounted avionics
Backlit LED display
No cavity tube – no warm up time required (no need for dropper resistors)
Free FAA ADS-B STC for 650 aircraft types
Software provides the widest compatibility with third party avionics
Unbeatable value and quality – designed and manufactured in the U.K.
Two year worldwide warranty
Trig TT21 & TT22 Transponders
Chosen by pilots around the world Trig's compact transponders are the best choice for good reason.
Fitting in the tightest panel space the innovative design saves weight and space. Trig is 'better by design,'with Mode S technology that makes you visible to commercial, military and GA traffic, as a result transiting busy airspace becomes more predictable and stress free. Trig transponders are future proof too – the growing use of ADS-B further enhances your visibility and flight safety. Unlike other brands Trig transponders meet the very latest certification standard for ADS-B, FAA TSO-C166b.
Designed to be easier to use, with a clear bright display the controller even comes with a built in altitude encoder! Join other pilots who have made Trig their compact transponder of choice – you'll be in great company.
Compact form factor – takes minimal panel space, fits in a compact or standard 57mm instrument hole.
Minimal depth – create space on your panel for other avionics.
Integrated altitude encoder
Certified for IFR / VFR flight
Manual dimming feature (adjustable backlight)
Low power consumption
EASA ETSO and FAA TSO Certification – includes TSO-C166b the latest ADS-B standard
Free FAA ADS-B STC for 576 aircraft types
Unbeatable value and quality – designed and manufactured in the U.K.
PRODUCT DESIGN
Trig's compact transponder is in two parts with a compact control head; this includes an inbuilt altitude encoder – saving further space and expense. A separate hardware box can be installed anywhere in the airframe. The mounted control head is only 54mm (2 3/25") deep and can be fitted in panel using a 57mm (2 ¼") round hole or smaller compact mount – the unit ships with the necessary fittings for both install options. Our compact transponders are highly efficient, whilst used in a wide range of GA types they are ideally suited for use in gliders and balloons, via an auxiliary battery.
Trig's compact transponders are easy to operate and have a crisp, bright display that's easy to read in all lighting conditions and is equipped with manual dimming. The transponder control head is splash proof too, so it's ideal for open cockpit and seaplane operations.
POWER OUTPUT AND ADS-B
Trig's TT21 has a 130 watts nominal power output, making it a class 2 transponder that meets international standards for 1090ES ADS-B Out (TSO C166b). The TT21 is ideal for use in flight where a light weight Mode S solution is required and is suitable for both IFR and VFR use.
COMPATIBLE TRIG PRODUCTS
ADS-B enhances safety and visibility – your investment in a TT22 transponder is future proof. Trig has a matching certified GPS position source that is highly affordable called the TN72. This is ideal for ADS-B voluntary equipage and the TN72 can even be used to meet the 2020 mandate by light-sport, experimental and homebuilt types.
TN70 GPS Receiver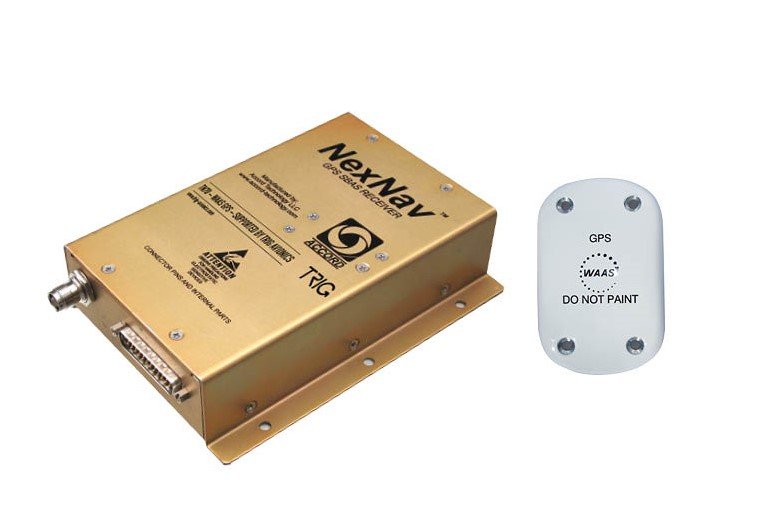 WAAS GPS receiver – kit includes Trig's TA70 antenna
Meets TSO-C145 – compliant for 2020 ADS-B
Complete your ADS-B Out solution
Requires no panel space – lightweight and easy to install
Compatible with Trig transponders
COMPATIBLE PRODUCTS
The TA70 certified WAAS antenna is designed to compliment the TN70.  The TN70 comes with the TA70 antenna as a bundled kit, optimised for the best results. We do not sell the TN70 as a stand alone unit.
ADS-B
Trig are leaders in ADS-B technology (Automatic Dependant Surveillance Broadcast) we were the first company in the world to meet FAA TSO-C166b, the latest standard for ADS-B transponders. Every Trig transponder is Mode S, but also ADS-B capable. Once installed ADS-B equipment transmits your aircraft's precise location directly to other ADS-B equipped aircraft, improving your electronic visibility and safety.
Trig TN72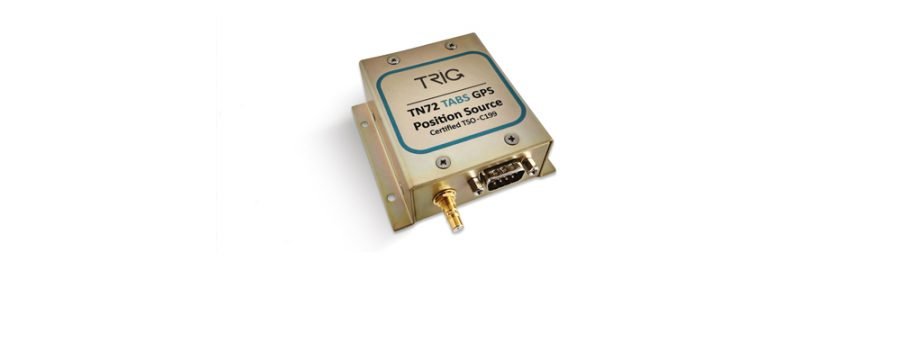 The TN72 GPS Position Source brings ADS-B Out capabilities to your Trig transponder. Light weight and easy to fit, the highly affordable TN72 uses certified technology making you visible to all ADS-B In traffic devices.
Flying in busy skies with a TN72 will reduce your risk of collision and improve flight safety. In the U.S. the TN72 used as your ADS-B Out solution will trigger a full traffic service uplink – received using ADS-B In equipment.
When using a TN72 there are two different ways to set up your Trig transponder (shown below). The TN72 hardware is the same in either installation.
Simple ADS-B Out upgrade for all Trig transponders
Suitable for experimental aircraft / gliders and light-sport pilots for 2020 
Safer – visible on all ADS-B In systems
Enables live tracking of aircraft (with suitable ADS-B In equipment)
Triggers traffic information services (TIS-B only available in U.S.)
Low cost and light weight
Two year world wide warranty
The TN72 supports current and future air to air collision avoidance and situational awareness applications. This enhanced visibility can be useful for tracking club aircraft in real time – improving safety in the circuit and reducing the risk of air-to-air collision.
Request A Quote
[contact-form-7 id="985" title="Contact form 1"]